Southern Reporter to keep Selkirk office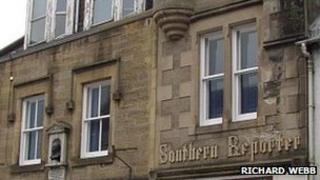 The editor of the Southern Reporter has said the paper will retain an office in Selkirk after plans were announced to shut its current site.
MSP John Lamont has raised concerns about moves by Johnston Press to close the premises.
He described it as "sad news" and said it provoked fears of a "drop in the standard of local news".
However, newspaper editor Susan Windram said staff would move to a more suitable modern office in the town.
The changes come after the company reported a loss of nearly £144m for the 2011 financial year.
Mr Lamont said it was understandable Johnston Press needed to cut costs but said he was concerned the "next stage" might be complete closure of certain titles.
A statement on the newspaper website said it was "business as usual" for the Southern Reporter.
"Our commitment to the Borders remains our highest priority, and we will continue to be the region's top weekly title," said Ms Windram.
"We will have a more suitable, modern office, and there will be no detrimental effect for readers and advertisers, as well as customers wanting to place BMDs and announcements.
"There are also exciting plans to invest in an updating of the newspaper and website later this year, to reflect the ever-changing multimedia landscape we are in."