Dumfriesshire motorway drug courier fled at 110mph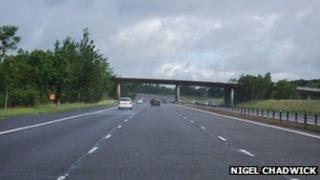 A drug courier who tried to flee police at more than 100mph on a motorway hard shoulder has been jailed for four years and four months.
Officers signalled Leigh Tollick, 25, to stop on the A74(M) between Beattock and Lockerbie.
He slowed down but then sped away and eventually forced police to give up his pursuit as unsafe. However, they later uncovered a drug and cash haul.
Tollick admitted being concerned in the supply of heroin in March this year.
Advocate depute Peter McCormack told the High Court in Edinburgh how Tollick slowed the Ford Mondeo to about 30mph before suddenly accelerating up to speeds of about 110mph, overtaking vehicles on the wrong side and carrying out other manoeuvres.
At one stage following police decided it was to unsafe to continue the pursuit.
Witnesses also saw Tollick driving the wrong way on the hard shoulder of the motorway.
The car he was using was seen stationary near to a wooded area before he was later stopped again and no drugs were found in the vehicle.
A search at the wooded area found bags at the bottom of an embankment containing £83,000 in cash and heroin with a street value of £87,000.
Considerable debt
Tollick, who was on bail from Merseyside police, admitted being concerned in the supply of the Class A drug and dangerous driving on 14 March this year.
Defence counsel George Gebbie said that Tollick, who is currently in Dumfries prison, had anxiety problems and began using cocaine.
He said that because of the drug use he got into "considerable amounts of debt" and was told there was a possibility of reducing it by carrying out the offence.
Mr Gebbie said the drugs and cash in Tollick's possession were not his property.
Lord Bannatyne told Tollick he would have faced a six-year sentence for the drugs offence, but for his guilty plea.
The judge also banned him from driving for two years and ruled he should not get a licence until he passed the extended test.
The £83,000 was confiscated.