Kirkmabreck timber port plans still on table after study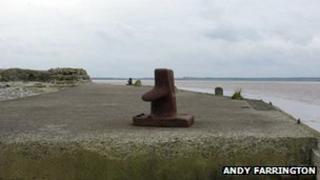 Plans to reopen a disused Galloway harbour are still on the table after the completion of a feasibility study.
Several firms have expressed interest in using the quay at Kirkmabreck near Carsluith as a timber-shipping port.
The site, next to the A75, is owned by Tarmac and was previously used to process and transport stone from the quarry nearby.
It has been mothballed since the 1990s but a survey has looked at the prospect of bringing it back into use.
It is estimated that between 9,000 and 18,000 tonnes of timber could be shipped from the quayside annually - reducing the number of lorry loads on roads in the area by about 250.
Among those to have expressed an interest in the scheme are two sawmill businesses and a paperboard manufacturer.
A Dumfries and Galloway Council spokesman said the findings of the technical survey were still being considered.
Key issues to be examined include the level of work required to get the port up and running, as well as potential operators.