Kirkcudbright roof scam men hunted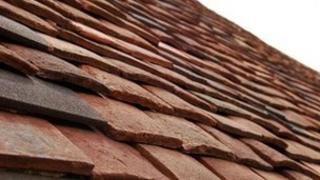 Police are trying to trace a team of bogus workmen who are believed to have scammed an elderly woman out of thousands of pounds.
It follows an incident at Rossway Road in Kirkcudbright on Tuesday.
Two men approached the property and claimed the woman had to pay them a "substantial amount" of money for roofing work that needed to be done.
A third man then arrived and took the pensioner to two local banks to withdraw cash to make the payment.
Sgt Iain Johnstone said: "This is an utterly despicable crime and we are eager to trace this team of criminals before anyone else is targeted.
"These types of criminals can be difficult to track as they are mobile and constantly move around the country targeting different areas before moving to another location.
"For that reason we need the help of the local community, if you see any suspicious workmen in your area, do not hesitate to call us."
He said the criminals had "no shame" and targeted the "elderly, vulnerable or those that live alone".
He added: "If you are not convinced that any workman in your area is reputable, call us immediately with as much information as possible, such as their appearance, accent and detail of any vehicle they are using, such as make, model and registration plate."