Scottish Borders alcohol plea extends to common ridings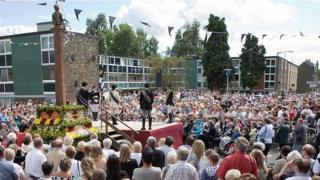 A plea to the public to drink in moderation at Borders rugby sevens events is moving its focus to the region's summer festivals.
Police, council and health bodies have stressed that getting drunk is not a "prerequisite to having a good time".
They said the Drink Responsibly campaign had helped to get that message across at recent rugby competitions.
It is now hoped it can be extended to cover the common ridings and other festivals across the Borders.
A working group of the Borders Alcohol and Drugs Partnership, treatment charity Addaction, Lothian and Borders Police and Scottish Borders Council is looking to promote the message.
It is highlighting the issues associated with high levels of alcohol consumption to communities and festival organisers.
A police spokesman said: "The common riding festivals in each town are a time when all communities are joined together to celebrate these long standing traditions.
"Equally, these are busy periods for the police and other emergency services, as these events are often associated with the consumption of alcohol.
"All too often people blame their inappropriate or offending behaviour on alcohol."
He said everyone was encouraged to enjoy themselves at the common riding but to "take responsibility for their alcohol intake".
"Sadly, we still deal too frequently with alcohol-related disorder and drink-drivers," he added.
Communities will be provided with information on how to drink more responsibly through posters which will be displayed within licensed premises during these events.
Information on the risks of "legal highs" and access to further information on how to stay safe will also be available.
Frank Scott, secretary of the Hawick Common Riding Committee, said: "We are happy to support the responsible drinking message through our programme of events.
"The common riding is about celebrating our history and we want everyone to come along and have a good time, but to be sensible about how much they drink and to look out for their friends as well."
NHS Borders' director of public health Dr Eric Baijal backed that message.
"While it is important on occasions such as these that we have a sense of community, it's great to have a sense of well-being too," he said.
"Prove for yourself that you can enjoy yourself without overindulging in alcohol.
"We should all share the vision of a Borders where moderate, responsible drinking is the norm."
The Alcohol and Drugs Partnership is also urging people to make sure they drink plenty of water and eat regularly during the common riding celebrations.
It added that it was equally important to dress appropriately for the weather conditions on the day.
Common ridings can be traced back to the 13th and 14th Centuries when the border lands were in constant upheaval due to wars with England and cattle thefts.
At those times townspeople would often ride their boundaries on horseback to protect their common lands - a tradition which has continued to this day.