Peebles farm house murder trial hears 'sex games' claim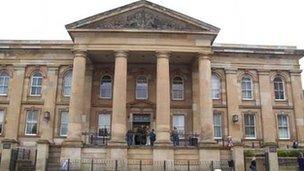 A court has heard claims a woman accused of murdering her housemate told police they had played "sexual games" before she killed him.
Eliska Novotna, 23, denies stabbing Arunas Ramanauskas to death at a farm house near Peebles in October 2011.
The court was told she was spotted by police in Peebles and told one officer: "I've just killed somebody."
Ms Novotna denies murdering Mr Ramanauskas and has lodged a special defence of self-defence.
PC Vanessa Hamilton, 34, told the High Court in Dundee that she spotted Ms Novotna walking on her own near Peebles police station in the early hours of the morning - and stopped to ask if she was OK.
The officer told how the Czech national approached her window and said: "I'm looking for the police station. I've just killed somebody."
PC Hamilton said Ms Novotna appeared "jovial and calm" - and that "in hindsight" she should have taken Novotna into her car, but instead told her to meet her at the nearby police station.
Minutes later, as the police officer dealt with a rowdy prisoner, Ms Novotna knocked on the police station's door.
PC Hamilton said Ms Novotna was directed to the public entrance - and when she met the accused she was making a 999 call.
The court heard a recording of that call, in which Ms Novotna told an operator: "Someone help me - I'm at police station and no-one is here. I want to report I've killed someone."
Ms Novotna then told Ms Hamilton: "I want to report a murder - I've killed someone."
The court was told she added: "We went to bed and played some sexual games.
"I then took a knife and killed him - I don't know, four times, six times.
"I can't explain it - I don't have an excuse for what I've done.
"I don't understand myself why I did it."
The court heard she then told Ms Hamilton that she had washed the knife in a bathroom.
Advocate depute Richard Goddard asked Ms Hamilton if there had been any reference to an attack on Ms Novotna but she said there had not been.
The court had previously heard from Mr Ramanauskas's sister, Gitana Ramanauskaite, 38, who said that her brother - known to friends as Russian Ronnie - had moved to Scotland from his native Lithuania about seven years ago.
She said: "We grew up very close.
"He was married a long time ago and had a daughter who he was very close with as well.
"He was a very helpful and very honest man."
Jacqueline Campbell, whose family owns the farm at Glenrath where Ms Novotna and Mr Ramanauskas both worked, also gave evidence.
She told the court Ms Novotna had moved into the farm house near Peebles six days before Mr Ramanauskas's death.
Ms Novotna denies a charge of murdering Mr Ramanauskas on 7 or 8 October last year at the Old Farm House, Easter Happrew, Peebles, by repeatedly stabbing him on the body with a knife.
She further denies attempting to defeat the ends of justice by refusing to comply with a warrant instructing her to submit to medical examination at Borders General Hospital.
The trial, before Lady Clark of Calton, continues.
Related Internet Links
The BBC is not responsible for the content of external sites.