Earlston and Jedburgh operation seizes underage alcohol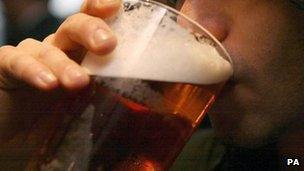 Police have voiced their disappointment after more than 30 underage youths were caught trying to take alcohol into two rugby events in the Borders.
The incidents came at tournaments in Jedburgh and Earlston.
Insp John Scott said it was a disappointing that a few people could "potentially spoil" events which were the highlight of a rugby club calendar.
He said police patrols would continue at future competitions in a bid to keep tackling the problem.
The alcohol was seized at the Jed Thistle Semi Junior Sevens and Earlston Sevens on 5 and 6 May.
The majority of the underage youths found with alcohol were girls.
Insp Scott said: "We have targeted our patrols from past experience where young people consuming alcohol have caused problems.
"We have worked closely with rugby clubs to reduce the impact of alcohol at these events.
"This message is not always being followed by young people and due to problems encountered in the past, the clubs have searched bags of those entering the events and this has been supported through police patrols."
David Mitchell, honorary treasurer of Earlston RFC, said it took its responsibilities over underage drinking seriously.
He stressed that they had a "no carry out" policy and every bag coming in was checked by security staff for alcohol.
However, Julie Murray, of the Scottish Borders Alcohol and Drugs Partnership, stressed that many young people were getting the message about alcohol.
She said: "We are seeing a downward trend in youngsters trying alcohol and in those claiming to drink regularly which is very positive.
"The alcohol and drugs partnership is committed to raising awareness of the impact and potential dangers for young people's health and well-being through consuming alcohol.
"We would encourage parents of young people to assist and support us in efforts to combat this problem."
Related Internet Links
The BBC is not responsible for the content of external sites.