Dumfries and Galloway police issue 'legal high' warning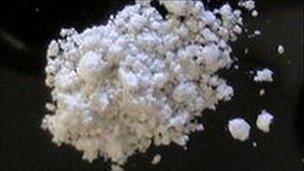 Police in Dumfries and Galloway have issued a warning about the dangers of psychoactive drugs - more commonly known as legal highs.
The force has revealed that the use of such substances - sometimes packaged and sold as bath salts or plant food - is on the increase in the region.
The drugs have been linked to dozens of deaths across the UK.
Substance misuse officer Scott Jardine said there had been some close calls in south west Scotland.
He said in one incident a young man had been taken to hospital with heart palpitations and a severe anxiety attack after taking one drug, known as mexxy.
Amid concern about an apparent upward trend in the use of psychoactive drugs in the region - particularly amongst the 16 to 25 age group - the constabulary has lined up a seminar this week for agencies involved in tackling substance misuse.
The awareness day will see experts in the field provide in-depth training on the chemical compositions being sold under the guise of legal highs, and their side effects.
Dumfries and Galloway Constabulary has also been attempting to gauge how widespread the use of psychoactive drugs is in the region and has been conducting an online survey on the force's Facebook page in the run up to the seminar.