MP Russell Brown holds caravan tax talks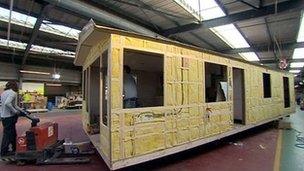 Dumfries and Galloway MP Russell Brown is holding a meeting with local tourist businesses about the potential impact of VAT on static caravans.
The talks are being held at the Auchenlarie Holiday Park near Gatehouse of Fleet.
Static caravans are currently VAT free but the recent UK budget included plans to levy 20% from 1 October.
Consultation on the change is currently under way with the deadline for responses later this week.
Mr Brown said his area would be deeply affected by any such moves.
"Caravan parks are essential to Dumfries and Galloway's tourism industry and we have over 50 in our area," he said.
"The VAT change will suddenly increase the cost of static caravans by 20% and I have grave fears for the impact on tourism in our region.
"Holiday parks are already finding trading difficult and the higher charges could well drive people away, and could cause some parks to go under."
He said the proposal was a "real threat" to the local economy and he wanted to help fight the "damaging plans".
Prime Minister David Cameron has said the moves are about fairness.
"This is an issue about how we draw the VAT boundaries fairly," he said.
"I don't think it's fair that a mobile caravan pays VAT but a stationary caravan does not."
Related Internet Links
The BBC is not responsible for the content of external sites.