Eliska Novotna murder trial hears gown cord evidence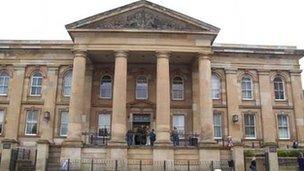 A man allegedly murdered by his housemate was found dead with a dressing gown cord tied round his neck and eyes, a court has heard.
Arunas Ramanauskas was found dead by paramedics at the remote farmhouse at Easter Happrew Farm, near Peebles.
The High Court in Dundee heard he was discovered wearing only a pair of underpants and blindfolded by the cord.
Eliska Novotna, 23, denies murdering Mr Ramanauskas and has lodged a special defence of self-defence.
The court had previously heard evidence that she told police officers: "We played some sexual games, then I killed him."
The second day of the trial was told how PC Barry Haig had been the first officer to arrive on the scene at about 04:40 on 8 October 2011.
He told how paramedics directed him upstairs where he found Mr Ramanauskas's body.
PC Haig said: "He was on his back on the floor, with his legs almost in a figure four position.
"He had a burgundy dressing gown on the floor next to him.
"The cord was round his neck and his eyes - he was dressed only in underpants."
He told the court there was "an incision directly above where his heart was".
"The room was quite dishevelled - there was a double bed and on it there were two pools of what looked like blood," he added.
Mark Heron, a senior scene examiner for the Scottish Police Services Authority, later arrived to forensically examine the scene.
He said: "The cord was placed over his eyes and round the back of the neck and tied in a half knot.
"The cord then came round the front and was tied in full knot.
"There were obvious injuries to his chest and leg."
Mr Heron added that a knife was found under the dressing gown on the floor beside Mr Ramanauskas' body.
He held up the knife, which was inside a plastic container, for the jury.
Ronald Thompson, 51, a paramedic, was the first person to discover Mr Ramanauskas's body.
He told the court: "There was no pulse or breathing and no signs of electrical activity in the heart.
"We pronounced life extinct at 4.45am."
Ms Novotna denies a charge of murdering Mr Ramanauskas on 7 or 8 October last year at The Old Farm House, Easter Happrew, Peebles, by repeatedly stabbing him on the body with a knife.
She further denies attempting to defeat the ends of justice by refusing to comply with a warrant instructing her to submit to medical examination at Borders General Hospital.
Related Internet Links
The BBC is not responsible for the content of external sites.