Conservative/SNP coalition will run Dumfries and Galloway Council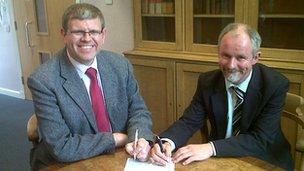 The party which won most seats in Dumfries and Galloway Council elections will not be part of its administration.
Labour took 15 places on the authority but a ruling coalition has been formed by 14 Conservatives and 10 SNP members.
The move means that Tory Ivor Hyslop will return as council leader in a deal which the two groups said would work for the good of the area.
However, the Labour group said the coalition agreement showed "contempt for local people".
Its leader, Ronnie Nicholson, said: "The Tories lost the election, and the people of Dumfries and Galloway voted to kick them out.
"But the dead hand of Tory rule has been given the kiss of life by the SNP.
"Thousands of SNP voters across the region will be dismayed that the people they voted for have betrayed them and the SNP have jumped into bed with the Tories."
SNP group leader Rob Davidson quit his post just before the coalition announcement, with his party citing family reasons.
However, acting leader Iain Dick insisted the power-sharing deal with the Conservatives would "best serve the interests of the people of Dumfries and Galloway".
He said it could achieve the bulk of its manifesto and what it wanted to "drive through" the council in the next five years.
"It is an extremely exciting programme of work that we hope, in conjunction with the Conservative group, we will be able to take forward successfully," he said.
"We were of the opinion that the way in which to get this programme through effectively was to work in conjunction with one of the other major groups as a majority administration to enable us to do that much more successfully than we felt a minority administration would have been able to do."
Mr Hyslop said the deal came after days of "positive and constructive negotiations" between his Conservative group and the SNP.
"I am confident that a good working relationship can continue to be built upon by our two groups," he said.
"This power sharing deal allows us to work on our 10 key election priorities."
Local Labour councillors claimed that a deal between their party and the SNP had been blocked after the intervention of Holyrood ministers.
However, Mr Dick said many Labour policies had "not been credible" and they had come to the conclusion they could not be "trustworthy coalition parties".
Related Internet Links
The BBC is not responsible for the content of external sites.