Megget and Talla cycle route voted 'best in the Borders'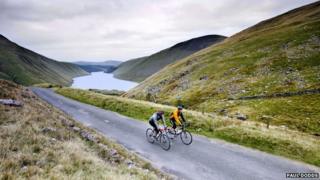 A survey of cyclists in the Scottish Borders has unveiled the scenic, circular Megget and Talla route as the best in the region.
The Tweed and Ettrick Valleys came second in the poll and the Four Abbeys route third.
The study was conducted by the Scottish Borders Recreational Cycling Group to discover the route local cyclists would most recommend visitors should explore.
The challenging 53-mile Megget and Talla circuit received 50% of the vote.
Neen Kelly, recreational cycling officer for the region, explained: "We want to attract more cyclists to visit the Scottish Borders and will use the results of this poll in promotional activity to showcase what a fantastic road cycling offer we have in the Borders."
The Megget and Talla route starts and ends in the central Borders town of Innerleithen.
Fantastic views
Travelling through the countryside and passing by historic Traquair House, it features a steep climb towards Megget Reservoir from which views of Broad Law - the highest hill in the region - can be enjoyed.
It then descends towards Talla Reservoir, continues past the Dawyck Botanic Garden to Peebles and follows the Tweed Valley back to Innerleithen.
Cyclists participating in the survey described the route as having fantastic views, great terrain and contours, and as a good ride and a good challenge.
Ms Kelly added: "We'd like to thank the cyclists who took part in this survey for their input.
"Locals always know the best routes and through this survey we'll be able to let visiting cyclists in on a few 'secrets'."