Eliska Novotna murder trial told of sex attack fears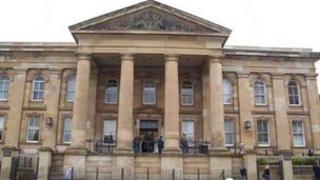 A woman accused of murdering her housemate on a Borders farm has claimed she acted in self-defence as she feared being the victim of a sex attack.
Eliska Novotna, 23, admitted striking Arunas Ramanauskas with a knife up to six times.
She told the High Court in Dundee that she believed it was the only way of protecting herself she had.
Ms Novotna denies murdering the Lithuanian claiming that she acted in self-defence.
She told her trial that she had been drinking since 10:00 on 7 October last year.
She had moved in with Mr Ramanauskas six days earlier as she looked for accommodation closer to Glenrath Farm, near Peebles, where they both worked.
Ms Novotna said he had borrowed a DVD from her - and that she had later asked for a lift to a nearby Sainsbury's store.
They went together and bought beer and rum before returning home.
Mr Ramanauskas then invited her to watch the film with him in his room.
Ms Novotna claimed that as they watched he started touching her "lovingly" on the arms and shoulders - and that she had asked him to stop.
She then went downstairs to make a sandwich - and claimed he followed her and tried to dance with her.
Ms Novotna said she went back to her room before going back upstairs to ask him what time he was going to drive her to work in the morning.
She said: "He took my hand and pushed me on his body.
"He took my T-shirt and bra off and was touching me.
"I didn't want it to happen."
She said she had then told him she needed to change her tampon but that she was shy and did not want him to see her - so, with his help, she tied a dressing gown cord round his eyes and neck.
She told the court: "I went to the kitchen and took the knife and placed it in the rear pocket of my trousers because I was scared.
"When I went back upstairs I was half naked.
"He took my trousers down and placed me on himself."
Defence QC Jim Keegan asked her why she had gone back upstairs.
Ms Novotna replied: "I wanted to get my clothes and get the answer to my question because he didn't answer me before."
She said that Mr Ramanauskas then tried to push her into a position to carry out a sex act.
She said: "The knife was in the pocket of my trousers - when he was trying to get my pants off I reached for the knife.
"I stabbed him - somewhere on the chest."
Special defence
Ms Novotna told the court she had stabbed him six times.
"It all happened fast - it was dark and fast," she said.
"I was protecting myself - I wanted to stop him. It was the only way of protecting myself that I had."
Ms Novotna denies a charge of murdering Mr Ramanauskas on 7 or 8 October last year at The Old Farm House, Easter Happrew Peebles, by repeatedly stabbing him on the body with a knife.
Ms Novotna has lodged a special defence of self defence in the case.
The trial, before Lady Clark of Calton, continues.