Dumfries town centre: Can the high street 'buzz' again?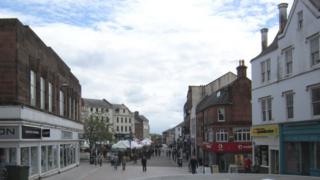 It is easy to think that everything was better when you were young.
The summers were longer, it was safe to let your children out to play and the high street was always buzzing with shoppers.
Those who actually ran businesses back then might well tell you a different story about that last assertion.
But they certainly did not face the same challenges from out-of-town developments, online shopping and easy-to-reach big cities that today's small town store owners do.
Dumfries, one of the first places you hit when crossing the border from Cumbria in England into Scotland, has been affected by the same issues as many medium-sized towns.
Not large enough to attract and keep the big chains, not small enough to allow micro-enterprise to thrive.
Or so, at least, the accepted wisdom goes. Not everyone buys into that.
This week a new Debenhams store opened on the town's High Street - a move which looked to have been killed off a few years ago.
It was April 2008 when developer Centros Miller confirmed it was shelving a multi-million pound redevelopment of the town centre, blaming the global credit crunch.
Debenhams had been earmarked as the "anchor store" for those plans.
Four years on, however, the firm saw the opportunity to move into the town when an old TJ Hughes store closed.
"We have been looking at Dumfries for an awful long time," said store manager Graham Dickinson.
"We always knew that there was an opportunity for us in Dumfries so when the site came up it fitted the bill.
"It was the perfect size for the town and in a great location in the High Street - we just jumped at it."
Mr Dickinson does not share the negative view some hold of the town, and believes Debenhams can attract other big names to the area.
"I know Dumfries, I have been coming to Dumfries for years, and it has got quite a good shopping offer," he said.
"Looking at some of the other retailers in town, for the size of the High Street, it has already got some major names in town.
"Hopefully we will pull in some of the other major names that aren't actually already in the town.
"We are considered an anchor-tenant - we create a lot of buzz and the buzz that we are creating in Dumfries is fantastic."
At the other end of the business scale are Colin and Angela Green who run Merchants Sandwich Bar a few hundred yards away.
There may be smaller retail units in the heart of the town, but not many.
They have been running their business from the base of the historic Midsteeple since March last year.
Mr Green said any kind of "buzz" or additional footfall through the town would be a welcome boost.
"We have wanted to do something like this for years," he said.
"Initially we would have taken a place which had seating but when we looked at places it was very expensive for the rates and rent.
"So that was not an option for us - we took this on because it was more affordable."
He admits that the first year has been "quite hard" but believes they are starting to establish a reputation in the town.
He cites the weather, overhead costs and a lack of convenient parking as among the biggest obstacles to regeneration of a place he is clearly passionate about.
"Online shopping is not going to go away so it is about trying to find a way to make a town centre attractive," he said.
"The parking situation is long overdue a change.
"I think a way of making it more accessible needs to be found - something could be done for the tourists."
Mr Green believes that expecting elderly residents and visitors to walk from car parks outside the centre is a handicap to traders.
He also reckons the right balance of shops is essential.
"We need to be looking for a town centre mix of independents, chains and blue chip companies," he said.
"A blend which is good enough to bring people in."
A key player in that is the Loreburne Centre, the biggest retail complex in the heart of the town.
Manager Jim Ireland has been pleased to welcome Sports Direct to the centre this week - filling a gap left after Peacocks went into administration and bringing 27 jobs with them.
He said another major retailer was also eyeing a spot but needed to wait until a double unit could be made available.
The centre also has plans for a six-figure upgrade of its High Street entrance.
Mr Ireland is, therefore, upbeat about the town's shopping offering - particularly compared with other places across Scotland - but believes more could be done to help smaller businesses like Mr Green's.
He said rateable values often made it almost impossible for family enterprises or small-scale retailers to afford premises.
"I think that is something they really do need to look at," he said.
Nonetheless, he reckons the town has changed for the better in his nearly two decades in charge of the centre.
"In 1995 when I walked up the High Street there were 57 vacant shops - you now struggle to get into double figures," he said.
"People tend to forget how bad it was back then.
"The Loreburne Centre back then was 40% let - it is now over 90% let - and trading generally very well."
And that, perhaps, is at the very heart of trying to bring that elusive positive feeling back to the town centre.
It is as much about dealing with people's perceptions - and their romantic vision of the past - as it is about more concrete commercial matters.