Sites selected for Dumfries new £200m hospital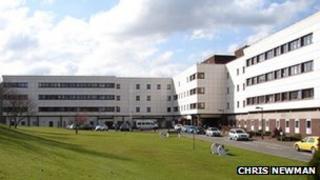 A new £200m general hospital for Dumfries will not be built at its current site after two locations near the town bypass were preferred.
A special NHS Dumfries and Galloway board meeting selected sites at the Garroch and Lockerbie roundabouts on the A75 as the best options.
The current location and two others - in Locharbriggs and near Tinwald Downs Road - have been ruled out.
A business case is currently being worked up to take the plans forward.
The Scottish government has earmarked up to £230m to finance a replacement for the town's infirmary.
The possibility of carrying out improvement works to the current Dumfries and Galloway Royal Infirmary has already been ruled out.
Initially, five potential sites were considered but that has been narrowed down to two.
A spokesman for NHS Dumfries and Galloway confirmed: "A special NHS board meeting took place to consider site options for the new acute hospital for Dumfries and Galloway.
"With regard to the proposed site for the new DGRI, the NHS board confirms that two sites - at Garroch and Summerfield - are still under consideration and negotiations are ongoing on both these sites.
"As there are commercial sensitivities about the final choice of site, the NHS board will make no further public announcement at this time."