Scottish Borders Council key appointments made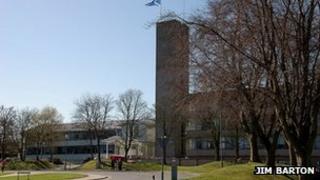 A full meeting of Scottish Borders Council has seen the appointment of SNP, Liberal Democrat and independent councillors to key posts.
Independent David Parker returns as leader - a role he has held for the past nine years.
The SNP's John Mitchell will act as his deputy with Lib Dem Graham Garvie acting as convener.
Despite winning the most seats at recent elections, the Conservatives were left out of the ruling coalition.
The make-up of the 34-member council allowed for a number of potential administration combinations.
The Conservatives won 10 seats, with nine for the SNP, seven independents, six Lib Dems and two for the Borders Party.
That could have allowed the previous administration - of Tories, Lib Dems and independents - to be reformed.
However, instead the SNP took the place of the Conservatives, with the two Borders Party members - Nicholas Watson and Sandy Aitchison - agreeing to work as independents in the new ruling group.
The full breakdown of key posts is as follows:
Convener - Graham Garvie (Lib Dem)
Vice convener - Jim Brown (SNP)
Council leader - David Parker (Independent)
Depute leader - John Mitchell (SNP)
Chairman of scrutiny - Gavin Logan (Con)
Vice chairman of scrutiny - Jim Torrance (SNP)
Chairman of standards - Alec Nicol (Lib Dem)
Chairman of planning and building standards - Ron Smith (Lib Dem)
Vice chairman of planning and building standards - Nicholas Watson (Independent)