Eliska Novotna murder trial told she slept with knife under her pillow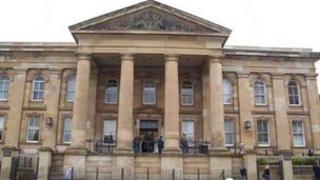 A woman who stabbed her housemate on a Borders farm has claimed she slept with a knife under her pillow in the nights leading up to his death because she was "scared" of him.
Eliska Novotna, 23, has admitted striking Arunas Ramanauskas with a knife up to six times last October.
She denies murdering the Lithuanian, claiming that she acted in self-defence.
She also told the High Court in Dundee she barricaded her bedroom door.
Ms Novotna was giving evidence in her own defence for a second day.
She had previously told the court she stabbed Mr Ramanauskas as she feared being the victim of a sex attack.
The court has heard that the 23-year-old told police hours after the incident: "We played sexual games - then I killed him".
She told the court that she was "scared" of Mr Ramanauskas after moving in with him just six days before he died as she looked for accommodation closer to Glenrath Farm, near Peebles, where they both worked.
Advocate depute Richard Goddard asked her: "You claim to have slept with a knife under your pillow yet that night you went to his room with him?"
She replied: "Yes that is true. At that moment I didn't feel there was a big danger to me.
"Every night I made sure my door was closed and barricaded so he would not get in."
Trial judge Lady Clark of Calton asked her: "What did you barricade the door with?"
She answered: "I had a table and desk that I put behind it."
Mr Goddard asked her why she barricaded the door when there was a lock on it and she said the lock was not working.
Special defence
The advocate depute asked: "Are you making this up Miss Novotna?"
She replied: "I'm on oath - I would not make it up."
The court heard that a DVD movie titled "Butchered" was found on her bedroom table - beside the knife she claimed she slept with.
Defence counsel Jim Keegan QC asked Ms Novotna how she felt about Mr Ramanauskas' death.
She said: "I feel bad - I didn't want him to lose his life."
Ms Novotna denies a charge of murdering Mr Ramanauskas on 7 or 8 October last year at The Old Farm House, Easter Happrew Peebles, by repeatedly stabbing him on the body with a knife.
Ms Novotna has lodged a special defence of self-defence in the case.
The trial, before Lady Clark of Calton, continues.