Lockerbie bombing: Libyan prime minister meets Scots authorities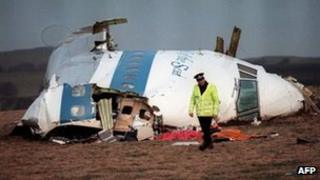 Scotland's most senior law officer has met Libya's interim prime minister in London to discuss further inquires into the Lockerbie bombing.
Abdurrahim El-Keib reaffirmed his commitment to co-operate with Scottish authorities over the 1988 atrocity.
Mr El-Keib told Lord Advocate Frank Mulholland the issue was a priority but asked for clarification about any proposed investigation.
It comes days after convicted Lockerbie bomber Abdelbaset al-Megrahi died.
Megrahi is the only person to have been found guilty of involvement in the blowing up of Pan Am Flight 103, killing 270 people.
The meeting with Mr El-Keib in London also involved the chief constable of Dumfries and Galloway Constabulary.
A Crown Office spokesman: "The prime minister asked for clarification on a number of issues relating to the conduct of the proposed investigation in Libya and the lord advocate has undertaken to provide this.
"The prime minister made it clear that he recognised the seriousness of this crime and following the clarification he would take this forward as a priority."
Later at talks in 10 Downing Street, Mr El-Keib also told Prime Minister David Cameron Libya would "work very closely" with the UK over the case of PC Yvonne Fletcher, who was shot while policing a protest against the Gaddafi regime at the Libyan embassy in London in 1984 and later died.
In April, Mr Mulholland travelled to Tripoli with the director of the FBI, Robert Mueller, to follow up a request for co-operation after the fall of Colonel Gaddafi.