River Nith rescue sparks hot weather waterway warning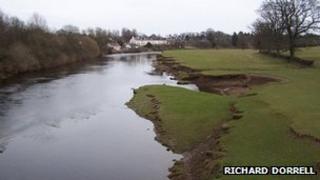 People trying to cool off in the hot weather have been warned about the dangers after a teenager was rescued from the River Nith in Dumfries.
The youngster got into difficulty near the Nunholm Bridge on Thursday.
He was unhurt but the Royal Society for the Prevention of Accidents (RoSPA) has pointed out that accidental drownings tend to peak during hot weather.
Temperatures reached 27C (80.6F) this week and more of the same is predicted for the weekend.
The teenager was not injured but was taken to Dumfries Infirmary for checks.
A police spokesman said: "We rarely get the good weather we have had recently so we can understand everyone wanting to make the most of it.
"However, we should all still behave sensibly.
"Do not be rash around water, jump off bridges or go into deep areas as there could be strong currents or undergrowth underneath that you are not aware of."
David Walker, leisure safety manager at RoSPA, said that in previous years the number of accidental drownings inland had peaked during hot spells.
"We want people to be out and about, enjoying the weather and, ideally, swimming at properly supervised sites such as the local swimming pool," he said.
"Among the hazards to consider are that, even on a hot day, water might be a lot colder than you were expecting and there may be strong currents and underwater debris that you cannot see from the bank.
"Consider how you are going to get out of the water once you are in it - be honest about your swimming ability."
He added that people should remember "alcohol and swimming never mix."
Scottish Water customer service delivery director Peter Farre warned people not to swim in reservoirs.
They are man-made and, because of their purpose, have many "unique hidden dangers" such as underwater pipe work and steep banks.
"While it's important that people enjoy the good weather and take pleasure in the country's beautiful lochs, rivers and reservoirs, it's also vital that they stay safe," he said.
"We don't want to spoil anyone's fun but we are reminding parents to keep their children safe and asking adults to act responsibly around watercourses."