Margaret Kerr Unit boosted by Melrose Relay Runners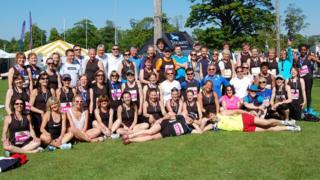 A group of Edinburgh Marathon runners is on course to raise £10,000 towards a palliative care unit in the Borders.
The 68-strong Melrose Relay Runners completed the race in teams of four.
They made it round the course despite their efforts being dogged by difficulties - including their bus breaking down with just an hour to go before the start.
However, friends and family rallied round to get the teams to the start line in time.
One of the organisers Jerry Brett said: "It was a superb effort from everyone and a great day.
"It was really tough because of the heat but there was a fantastic team spirit that got everyone through to the finish."
Work is already under way on the £4.1m unit but the effort to raise funds continues.
The project was kick-started by a legacy of £500,000 from retired West Linton nurse Margaret Kerr, who died in 2008.