Dumfries and Galloway health mediation scheme used once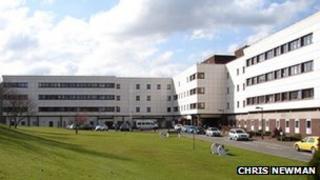 Health experts in Dumfries and Galloway have admitted they are struggling to draw conclusions from trials of a mediation service for complaints.
During the year-long pilot project just one patient who raised a grievance against the NHS board used the scheme
NHS Dumfries and Galloway opted to take part in the conciliation project.
The low uptake has been mirrored in other health board areas. However, the Scottish government is to continue to finance the scheme for a further year.
Hazel Boreland, nurse director for the NHS in Dumfries and Galloway, said it had been keen to be part of the project.
"We didn't know whether patients and families would like the option of being able to use mediation to help them work through some of their issues in relation to complaints," she said.
"The numbers across the country were too small to reach any firm conclusions."
It will now be re-evaluated after a further 12 months.
"I think if we use mediation early in the process it can be really positive and in some ways prevent some of the really heartache difficult conversations that happen near the end of the process," added Ms Boreland.
NHS Dumfries and Galloway medical director Dr Angus Cameron said he believed the low numbers using the service could be a "healthy sign".
"I do think that means we are probably handing complaints satisfactorily, at least to the satisfaction of the complainants," he said.