Buccleuch Street bridge in Dumfries faces fresh works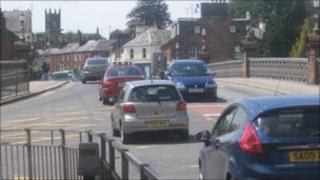 Drivers in Dumfries are facing weeks of disruption as major works start on a town centre bridge - a year after a previous upgrade.
Lanes on the Buccleuch Street bridge were shut for months in 2011 for resurfacing and repairs.
Another 12-week programme of works will now be carried out to refurbish and repaint the parapets of the bridge.
A council spokesman said the project should have been part of last year's works but had to be delayed.
The new phase of the bridge overhaul will get under way on 18 June.
The work has been timed to come between the town's Guid Nychburris celebrations and the arrival of the Tour of Britain cycle race in September.
Dumfries and Galloway Council said it had been nearly 30 years since work had been carried out on the parapets.
A spokesman said it had been hoped to complete the upgrade while closures were put in place on the bridge last year.
However, during the surfacing works it was discovered that a waterproofing course below the carriageway had to be replaced.
"Due to the restrictions of the site, it wasn't possible to carry out the resurfacing and repainting works at the same time," the spokesman said.
He said painting works were "very dependent" on weather conditions and were ideally carried out between April and September.
"Replacing the waterproofing delayed the programme and would have pushed the repainting works back into October," he added.
"The repainting work was, therefore, reprogrammed for June to September 2012."