Dumfries and Galloway Council makes childminder data apology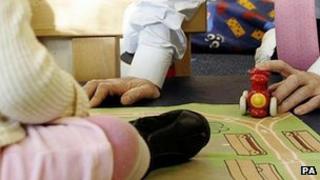 A council has apologised "unreservedly" after details of thousands of childminders were "inadvertently" sent to a number of childcare providers.
The information had been provided to Dumfries and Galloway Council by the Care Inspectorate.
The incident has been reported to the Information Commissioner's Office and those affected have been informed.
Labour group leader Ronnie Nicholson questioned why lessons had not been learned from a data breach last year.
In 2011, the names, salaries and dates of birth of nearly 900 workers appeared on the internet for more than two months.
In the latest incident, the names and contact details of more than 2,000 childminders were sent to a number of local childcare providers.
A council statement said it took the matter "very seriously" and had notified the ICO.
"The childminders involved were also fully informed of the incident by letter and follow up phone call where requested," it added.
"Steps have been taken to prevent an error of this type from recurring.
"We apologise unreservedly to the childminders affected."
However, Mr Nicholson said the incident raised questions about whether the council could be trusted with sensitive data.
"To have two serious breaches of data security in the space of a year suggests there are underlying problems with the way in which the council handles confidential information," he said.
"People are rightly asking why lessons were not learned following the blunder last year when the salary details of 900 council employees were mistakenly published."
He welcomed an upcoming review of council procedures and said the results needed to be published quickly and clear action taken.