Innerleithen mountain bike chairlift scheme plan lodged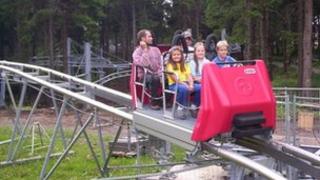 Plans have been lodged for a purpose-built mountain bike chairlift in the Scottish Borders.
Action group AIMUp has applied for outline planning permission to provide the rail facility.
It has been estimated it would cost £5m to construct and provide more than 100 jobs for the area.
The lift would be based at Innerleithen in Peeblesshire where, at the moment, riders have to push their bikes uphill before using its downhill courses.
The equipment, which resembles a fairground rollercoaster, can convey up to 1,200 people an hour up the steep wooded slopes near Traquair to the courses which are acknowledged as among the most challenging in Europe.
AIMUp - which stands for Action on the Innerleithen Mechanical Uplift - wants to create a 21st century facility for mountain bikers of all abilities which includes the chairlift, bike park and visitor attractions.
It believes the service would be a major boost to the sport in the Tweed Valley which attracts thousands of mountain bikers.
'Overtures for funding'
AIMUp comprises local businesses, mountain bikers and residents of Innerleithen, Traquair, Walkerburn and Cardrona who believe the chairlift would be a huge boost to visitor numbers.
If outline consent is granted, the search for funding would then begin but planning permission is being seen as a major stepping stone.
AIMUp treasurer Deirdre Latimer said: "Obtaining outline planning consent and without too much delay is absolutely essential to turning this dream into a reality.
"With the consent in place we can begin in earnest our overtures for funding."
The application is likely to be considered by planners at Scottish Borders Council this autumn.
Borders MSP Jim Hume said: "The Borders is renowned for mountain biking and the project for a mechanical uplift at Innerleithen led by AIMUp could open up significant economic opportunities."