Eden Festival 'pink ecstasy' warning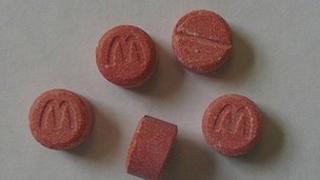 Police have issued a warning about a potentially fatal drug dubbed "pink ecstasy" ahead of a music festival in southern Scotland.
It follows a number of drug-related deaths in England in recent weeks.
The Eden Festival takes place at Raehills Meadows in Dumfries and Galloway this weekend.
Police said that while they did not have information the tablets were in the region they realised "drug dealers don't recognise area boundaries".
They have also warned about the dangers of psychoactive drugs - more commonly known as "legal highs".
Det Con Scott Jardine said: "We encourage festival attendees to be responsible and aware of the dangers of the substances that they consume.
"New psychoactive substances are also named as legal highs, they are sold as bath salts and plant food.
"Just because they are legal does not mean they are harmless, on occasions these substances can be as strong if not stronger than the substance they are trying to imitate."
He said it was important to recognise the risks of taking any such items.
"Remember there's no way of knowing what you are getting when you take any substance," he said.
"Be aware of the dangers and understand the potentially devastating effect drugs can have on your health."
He added that anyone experiencing side effects after taking drugs should contact their local accident and emergency department, their doctor or NHS 24.
The Eden Festival organisers describe it as a "family-friendly event" which "does not condone the use of drugs".
They said anyone attending could be subject to a drug and security search of their bags and belongings.
Anyone refusing such a search will not be allowed entry to the festival.