Dumfries and Galloway tests for cervical cancer checks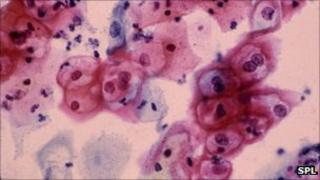 A new screening programme is being tested in Dumfries and Galloway to help prevent deaths from cervical cancer.
It is part of a research project by medical staff based at the gynaecology department at Dumfries Infirmary.
With one in four women locally overdue for a smear test, the study team is offering more flexible and convenient screening options.
They include, for the first time in Scotland, home testing for the HPV virus which can cause cervical cancer.
Dr Heather Currie, clinical lead, said: "We recognise that some women, for a variety of reasons, do not attend the routine smear test appointment.
"So we have, therefore, designed a study to offer them various options for getting a cervical screening test."
She said women could arrange tests with their GP, at a hospital clinic or carry out a home HPV test.
"We hope that most women will accept some form of screening," said Dr Currie.
"However, women who still decline any form of testing will be asked to complete a questionnaire and to comment regarding this decision.
"With cervical screening, cervical cancer can be prevented before it has a chance to develop.
"We hope this study will not only contribute to improving the gynaecological health of the participants but also in providing evidence on how we might increase the cervical screening uptake, thereby reducing cervical cancer incidence, morbidity and mortality."