A1 biker death crash charge denied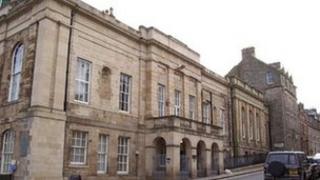 An Eyemouth man has denied causing the death of an Edinburgh IT worker in a crash on the A1 in the Borders in 2010.
Biker James Marlow, 33, died of his injuries after being struck twice by vehicles at the Ayton junction.
Michael Giacopazzi, 48, of High Street, Eyemouth, denies a charge of causing his death by careless driving.
A jury at Jedburgh Sheriff Court was shown a DVD of a police interview with the accused where he was questioned about the incident.
He said he had just finished his shift at the Ship Hotel in Eyemouth on 16 November and was heading home at around 17:00 as darkness fell.
He explained how he saw the light of a motorcycle approaching as he moved into the box junction to prepare to turn right across the carriageway at the Ayton junction on the A1.
The accused said he stopped his vehicle but when he could not see the light he assumed the motorcycle had turned off on the slip-road.
However, the court heard that when he moved off his Land Rover Freelander was struck by the motorcycle.
'Not a novice'
Mr Giacopazzi told the police interview that he stopped his vehicle but was unable to stop another car running over Mr Marlow as he lay on the northbound carriageway.
Other witnesses have told the trial how they saw Mr Giacopazzi - who has been driving for 30 years with no accidents - standing in the middle of the northbound carriageway trying to stop other vehicles.
The court heard that the victim had only passed his motorcycle test two months previously.
However, traffic police officer Neil Wilson said he had been informed that Mr Marlow had ridden a lot of off-road bikes in New Zealand in the past and "was not a novice."
The trial before Sheriff Donald Corke continues.