Councillors agree £25m Selkirk flood defence scheme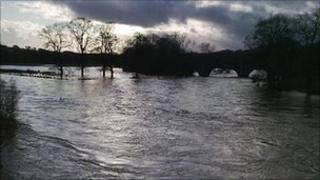 Revised plans to spend about £25m on flood protection measures for Selkirk have been approved.
Borders councillors have given their backing to the scheme, which should be in place by the end of next year.
The project should provide protection for the town from major floods. Upstream storage will be used, as well as defences further downstream.
The council said it would be the best protection ever delivered in the UK under a publicly-funded scheme.
One minor modification has been made to the proposed scheme that was originally presented to councillors last November. One objection to the scheme has now been withdrawn.
Selkirk has suffered regular flooding problems in recent years.
One of the most serious was a flash flood in the Bannerfield area of the town and nearby Broadmeadows in May 2003, caused by an exceptionally heavy thunderstorm.
In 1977 a road bridge in the town was swept away by the rushing waters of the River Ettrick.
Councillor Gordon Edgar, chairman of the Flood Advisory Group, said: "Major infrastructural projects can often take a decade to get approved. The council is delighted that the Selkirk scheme is now approved and that this has been achieved in just over two-and-a-half years.
"We are also especially pleased with the level of protection that will be provided to the Riverside area. This is the largest business area in the Borders.
"Providing this level of flood protection will effectively remove the risk of flooding. It will hopefully remove the current burden in achieving flood insurance, allow for further regeneration of the area, and most importantly encourage the creation of jobs."