Borders schoolboy rescues cat from tree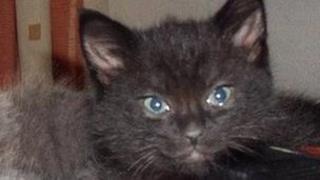 A Borders schoolboy been hailed as a hero after climbing a tree to save a cat after firefighters and animal welfare officers declined to intervene.
Kyle Watkinson, 15, of Chirnside, responded to a Facebook plea from the pet's owner Adele Harland.
The cat, Diesel, had been stuck up a tree outside her home in Foulden for several days without food and water.
Both the Scottish SPCA and Lothian and Borders Fire and Rescue Service said they could not carry out the rescue.
Scottish SPCA chief superintendent Mike Flynn said that in their experience cats who climb trees always find a way back down particularly when they are hungry.
He added they did not have the facility to climb up trees.
A fire service spokesman said they would not put the lives of firefighters at risk.
Ms Harland was critical of both groups for not assisting with the pet rescue.
But she described Kyle as a "hero" for climbing the tree to rescue her cat.