Paul McCann jailed for David Brown Minnigaff killing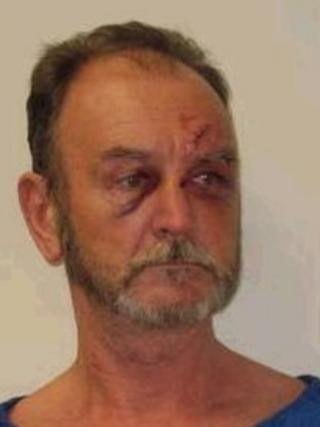 A man has been jailed for six-and-a-half years for the culpable homicide of his daughter's fiance in a Dumfries and Galloway village.
Paul McCann, 57, had originally been charged with the murder of David Brown, 41, in Minnigaff last year but pled guilty to the reduced charge.
A court heard he stabbed his future son-in-law at a family party.
Judge Lord Bannatyne told McCann his actions had had a "devastating effect" on both families involved.
Advocate depute Douglas Fairley, prosecuting, told the High Court in Edinburgh how 999 calls were made from the McCann home at McGregor Drive in Minnigaff, near Newton Stewart, just after midnight on 15 October last year.
Ambulance paramedics took more than half an hour to arrive.
Mr Fairley said that the nearest hospital able to carry out emergency surgery was some distance away.
"Police officers at the scene resorted to attending at the closer Galloway Community Hospital and conveying a GP from there to the locus to assist," he said.
The doctor arrived three minutes before the ambulance crew, the court heard.
By then Mr Brown had lapsed into a coma and died.
He had lain bleeding for about 20 minutes after the stabbing, then slipped into unconsciousness.
Medics later found a single wound to his shoulder which had cut a major blood vessel.
Sentencing ex-soldier McCann, judge Lord Bannatyne told him: "You voluntarily obtained a knife, a deadly weapon, and thereafter used it on an unarmed person.
"I also have to take into account the clearly devastating effect this has had on the family of the deceased and, given his relationship to you, your family."
Pleading for leniency, defence QC Donald Findlay described McCann as a man experiencing genuine shame and remorse and regret for what he had done.
"It is a very sad case in which a man need not have died," he said.
"The death of his son-in-law is something McCann will bear with him longer than any sentence imposed."
He also claimed if a local ambulance had been on call Mr Brown might have survived.
The court heard that McCann joined the Scots Guards in 1971 and transferred to the Royal Tank Regiment seven years later.
He completed two tours of duty in Northern Ireland before being given an exemplary discharge in 1985.
However, the court was told that since leaving the army he had become a heavy drinker and had experienced both post-traumatic stress disorder and depression.