New Stranraer home for community payback orders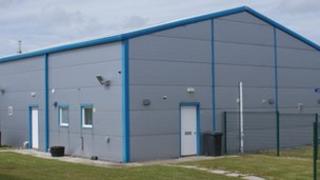 A new building to be used as a base for unpaid work through community payback orders has opened in Stranraer.
Councillor Andy Ferguson, who chairs Dumfries and Galloway Council's social work committee, carried out the official opening ceremony.
He said the old building was "not up to the job" whereas the new one was "entirely suitable for the purpose".
He added that sending people to prison for short sentences was not always best for victims, offenders or communities.
"Local services are now ready to follow the route of restriction, rehabilitation, reparation and re-integration for those on community payback orders," he said.
"This includes a range of unpaid work activity in the community and at the new work shops for this unpaid work activity."
Director of social work, John Alexander, said the scheme allowed offenders to do work that could otherwise cost communities thousands of pounds.
The new facility includes a working laundry, a training kitchen, garden area and store and preparation area for timber.