Hawick murder trial hears family phone call claims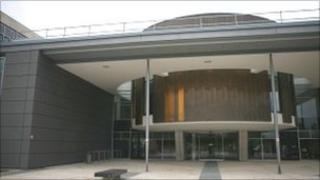 The trial of a Hawick man accused of murder has heard claims he phoned his relatives and told them he had stabbed his best friend.
The High Court in Livingston was told Derek Kinghorn, 44, called his daughter Chloe Taylor and his brother Gary.
Ms Taylor told a jury her father told her he had stabbed someone but that he was sorry and had not meant to.
Mr Kinghorn denies murdering Brian Mair and assaulting Amy Michaels in his Hawick home in November last year.
Ms Taylor, 20, told the court: "He said that he'd been drinking with this guy and they had an argument and things went out of hand.
"He just kept saying that he was sorry and he was going to go to jail for a long time.
"He kept saying it was his mate and he's been mates with him for years."
She added that he seemed to be "shocked and upset".
Gary Kinghorn, 46, who works as a postman, said he did not pick up his brother's message until he got up for work the following day.
In the voicemail recording which was played to the jury, the accused could be heard saying he had stabbed and killed someone.
Derek Kinghorn denies repeatedly striking Mr Mair on the head and body with a knife, threatening to kill him and murdering him.
He also denies assaulting Mr Mair's girlfriend, Amy Michaels.
The trial continues.