Dumfries Dock park plans secure support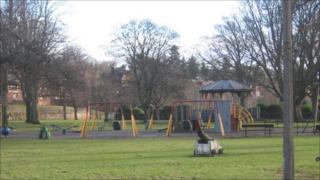 Plans for the redevelopment of a "flagship" park in the south of Scotland have secured nearly £1m from the Heritage Lottery Fund.
The money will be used to improve facilities and try to draw a "wider audience" to the Dock Park in Dumfries.
The plans include restoring its bandstand, creating a new play area and landscaping its main entrance.
Councillor Gill Dykes said the works would ensure the site was a park the people of Dumfries could be proud of.
Council leader Ivor Hyslop said: "Our plans for the Dock Park are an outstanding opportunity to celebrate the remarkable heritage of the park whilst developing the space and facilities for the future.
"This funding from HLF will enable this to happen.
"We are delighted by this grant award - it will provide activities, facilities and iconic features that will be enjoyed for years to come."
Colin McLean, head of HLF Scotland, said Dock Park was "well-used and much-loved by the local community".
He said the funding would "dramatically enhance" the current facilities.
"Once completed, Dock Park will once again be a high-quality resource for the surrounding community and visitors," he said.