Dumfries 'blazing a teaching trail'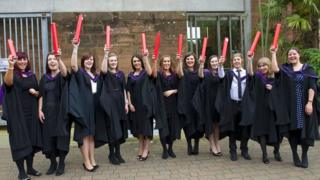 There will be something different about the classrooms of Dumfries and Galloway next term.
For the first time some of their primary teachers will have been fully trained in the region.
It is thanks to a new course being offered at the University of Glasgow's Crichton Campus which they believe is "blazing a trail" in education.
The first intake of students - who embarked on their journey four years ago - graduated this week.
For a wide range of reasons, they believe the opportunity to undertake their studies in Dumfries was a precious one.
Rebecca Duffell went to school in Jedburgh in the Scottish Borders and her family still lives near Hawick.
She was attracted by the smaller scale of operations in the region neighbouring her own.
"All the interviews that I had been to before I came to the interview in Dumfries were in bigger inner city campuses," she said.
"The difference when I turned up here was how friendly everyone was on the campus."
She was also impressed by the fact that the Master of Arts format would allow her to continue her studies in English Literature.
"It just seemed to have something quite different to the other primary interviews that I had," she added.
Next year the pupils at Lincluden Primary will get to find out what sort of skills she has acquired.
For Claire Devlin, who will be at St Ninians in Dumfries from August, there were sound financial reasons for staying in her home town.
"I chose to study in Dumfries because I am from Dumfries so it meant I didn't have to move away and I didn't have to get a student loan," she said.
"It meant I could still live at home and I didn't have to pay my digs or rent or anything like that.
"And, because it is such a small campus, it means that it is really personal teaching."
Claire Logan, also from Dumfries, is heading to Australia to teach after graduating, a chance she thought she might never have.
"I have got children, I couldn't have done it without this course being here," she explained.
"It has been great, it has changed my life.
"We have been really, really lucky because we have had really good lecturers and it has been interesting all the time."
Those words are music to the ears of campus director and head of the school of interdisciplinary studies Prof David Clark.
"This is a terrific day for the campus and a wonderful day for the 11 students that have graduated," he said.
"This is a very unusual degree, probably the first of its kind in Scotland.
"Not only are they going out as qualified primary school teachers to work in the region and further afield but they also have an MA with a very broad-based curriculum that they have followed over four years.
"So they are exceptionally well-educated and well-trained in the work that they have been doing here."
Eight of the 11 graduates are staying in the region with two heading to nearby South Lanarkshire and one to Australia.
Prof Clark said that was a "wonderful tribute" to people at the university, Dumfries and Galloway Council and primary head teachers who had had the vision some years ago that a course of this type would be viable in Dumfries.
He added that he believed the teachers it was producing were exactly the kind being sought in the recent Donaldson report on education - "well rounded" individuals capable of "critical thinking".
He also believes that, despite the difficulties of some young teachers in getting employment, the graduates have something extra to offer.
"They are not just well-trained teachers but they are highly educated across a broad range of subjects that makes them really attractive candidates in the job market," he said.
The word about the course has clearly got out, as this year there were 350 applications for the course - nearly 10 for every available place.
That, in turn, strengthens the case for extra funding for the campus.
Which all means that in years to come there should be an ever increasing number of locally trained teachers in the schools of Dumfries and Galloway.