Dumfries DG One swimming event loss claims dismissed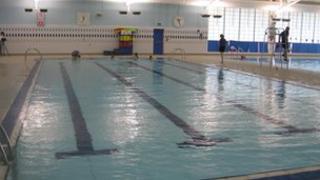 Claims that Dumfries missed out on a major swimming championship due to the continued closure of a training pool at the DG One centre have been dismissed.
Labour councillors said the Scottish Swimming short course event had been lost due to the ongoing problems.
A statement from organisers said it had selected the Royal Commonwealth Pool in Edinburgh for financial reasons.
Council depute leader Brian Collins said the move had "absolutely nothing" to do with maintenance issues.
Labour councillors John Martin and Colin Smyth voiced "disappointment and anger" that the championships would not take place in the town in December.
They said the training pool, which was required for cool down at such events, remained closed at DG One and no date for reopening had been set.
Mr Martin said: "I am really angry that the closure of the training pool has now dragged on and it is now resulting in the cancellation of major events.
"The fact that the details of the new venue were on the Scottish Swimming website before the council had even informed local councillors shows that councillors and local people are once again being kept in the dark.
"As soon as this was known by the council, they should have made councillors and local people aware."
Fellow Nith Ward councillor Mr Smyth claimed the problems at DG One were now "costing the local economy".
'Convenient location'
However, a Scottish Swimming statement made no reference to the problems at the pool.
It said that "closer inspection of the budget and venue costs" when taking into account the likes of travel costs and provision of officials had prompted the decision.
It added: "With the Royal Commonwealth Pool in the country's capital, this is also a convenient location for the participants, volunteers, parents and sponsors.
"This ensures that our top swimmers and others will prioritise the event and attend which is very important for the development of our younger athletes and the profile of our sport."
Mr Collins also dismissed any link between maintenance issues and the decision to hold the event in Edinburgh.
He said "reduced costs and logistic issues" of the central belt location and "reduced travel distances in winter" were behind the move.