Ex-Marillion singer Fish to open Kayleigh tribute square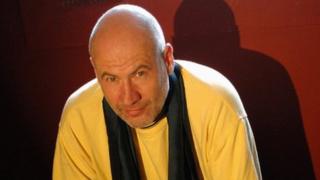 Former Marillion frontman Fish is to officially open a square which has the lyrics to the song Kayleigh engraved in its paving stones.
Scottish Borders Council put extracts from the hit into the pavement at the Market Square in Galashiels.
The songwriter described the tribute by the town which partly inspired the song as "really touching".
Galashiels was where Fish had his first gig and a former girlfriend attended its College of Textiles.
The song was written in 1985 and proved to be the biggest hit enjoyed by Fish and Marillion.
He said one inspiration for the song was a time in the early 1980s when he visited halls of residence in Galashiels to see his girlfriend.
"The line 'dancing in stilletos in the snow' was about coming back from a college ball," he told the BBC Scotland news website.
The local authority decided it would be appropriate to engrave the lyrics to the song in the redevelopment of the Market Square.
The Haddington-based songwriter will return to the town on 17 July to officially open that site.
The town's full inner relief road will be officially opened on the same day.