London 2012: Selkirk forest football pitch ready to go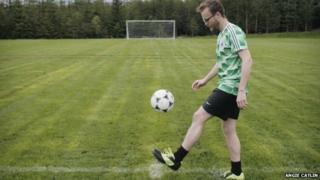 Final preparations are being completed for a football match on a pitch specially created in a Borders forest.
The Forest Pitch, near Selkirk, has been built by Edinburgh-based artist Craig Coulthard as part of artistic celebrations of the 2012 Olympics.
The teams are made up of "new Scots" - people who have come to Scotland seeking safety, for family reasons, or to work and study.
Tickets must be booked in advance for the games to be played this Saturday.
The Forest Pitch has been built in the heart of Selkirk woodland owned by the Duke of Buccleuch.
After the matches at the weekend, the white lines will be planted with native trees and "will evolve into a natural sculpture".
The project also involves a film and a book.
The strips the Forest Pitch teams will be wearing were designed by schoolchildren in a national competition.
Kerr Carlyle, of Dalmilling Primary in Ayr; Anah Dodds, of Letham Primary in Fife; Mia Gordon of Edinburgh Academy and Amelia Purkis, of Lilliesleaf Primary School in Melrose were the winning young artists.
Mr Coulthard said: "Forest Pitch highlights the founding spirit of the modern Olympic Games.
"It is all about amateur athletes joining together in competitions which honour the participation as much as the winning.
"The matches will be a showcase for sport as a way for people to engage with a culture, and of Scotland as a country which welcomes the world."