Galashiels inner relief road completed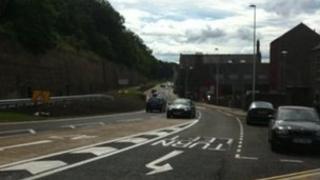 Work which began in 2005 to put an inner relief road in place in a Borders town has been completed.
The £12m Galashiels project started with a study of the options and an assessment of public opinion.
The first phase of the works was opened in April 2008.
It has now been entirely completed and Scottish Borders Council hopes it will "ease congestion" and provide "environmental benefits for residents, visitors and businesses".
Part of the project will see the town's Ladhope Vale open to two-way traffic, nearly two decades after the last time it did so.
Lothian and Borders Police and SBC staff will be on hand during the first day of reopening in order to "help motorists deal with the new road configuration".
Project manager Ewan Doyle thanked the public and businesses in the town for their "patience and understanding" during the work.