Galloway and South Ayrshire biosphere status welcomed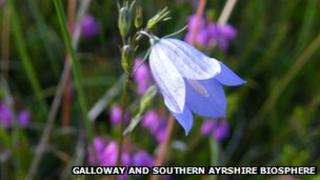 The "global spotlight" of becoming one of Unesco's worldwide network of biospheres has been welcomed in southern Scotland.
Galloway and South Ayrshire has joined two other reserves in the UK in receiving the designation.
It recognises sites with "outstanding natural landscapes" around the world.
Councillors in the region said they hoped it could be a "catalyst for bringing renewed hope, pride and opportunities to our area".
A joint statement by Peter Convery or South Ayrshire Council, East Ayrshire Council's Bobby McDill and Graham Nicol of Dumfries and Galloway Council welcomed the biosphere status.
"Our shared aspiration is no less than for Galloway and Southern Ayrshire to be a world class place for people and nature," it said.
"It will require a lot of hard work and we do not underestimate the task but by developing our natural assets in combination with the skills and talents of the people and by working together in partnership we are hopeful and believe this will be possible.
"We are determined to help make this a success."
The Unesco World Network of Biosphere Reserves now includes 598 reserves in 117 countries.
They are areas set up to serve as places to test different approaches to integrated management of terrestrial, freshwater, coastal and marine resources and biodiversity.
Unesco describes them as "sites for experimenting with and learning about sustainable development".