Dumfries Infirmary tries out self check-in kiosks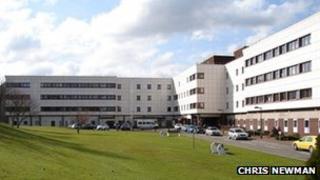 Self check-in kiosks, similar to those used in airports, are being installed for patients at Dumfries Infirmary.
The machines are part of a trial project to ensure that outpatients are in the "right place at the right time" for treatment.
They will let them check in for appointments themselves by swiping an appointment letter over a touch screen.
Graham Gault, head of IT with NHS Dumfries and Galloway, said it was an "exciting move" for patients.
He described it as a "major step forward" in efforts to "maximise the use of the most up-to-date technology in the delivery of local health care".
Mr Gault explained: "These kiosks will help NHS Dumfries and Galloway provide a more streamlined, efficient service for patients.
"It means that patients can arrive for their appointment and check themselves in allowing the staff in the hospital to focus on streamlining the service.
"It will help save them time and in some cases even provide more privacy because details will not have to be discussed at the desk."
There are six kiosks being used in the pilot at a cost of £20,000 in total.