Kirtle Water orphaned otter recovering well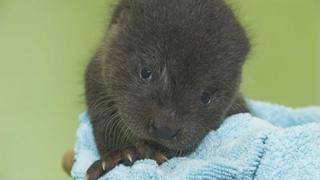 An orphaned otter cub found "very subdued and weak" in a Dumfries and Galloway river is said to be recovering well in Scottish SPCA care.
The seven-week-old male, named Noah, was spotted alone in the Kirtle Water.
A member of the public left the otter for 24 hours but when its mother failed to return he collected the cub and contacted the animal charity.
The creature is now being rehabilitated at the Scottish SPCA's rescue centre in Clackmannanshire.
Centre manager Colin Seddon said: "The water had risen due to the recent bad weather so it's likely Noah and his mother were separated after one of them was swept away by the current.
"It's also possible mum has been killed or frightened off.
"Otters usually remain with their parents until they're around a year old so Noah is far too young to be by himself and wouldn't have been able to survive in the wild."
He said the cub was now taking solid food and was "a lot brighter".
"Soon we'll take a hands-off approach to allow Noah to develop a healthy and natural fear of humans, which is vital if he's to survive in the wild," he added.
"We're very hopeful that in around 12 months we'll be able to release Noah back into his natural habitat."
Anyone who discovers an injured or distressed animal has been advised to the Scottish SPCA's Animal Helpline on 03000 999 999.