Queen of the South Palmerston Park revamp under way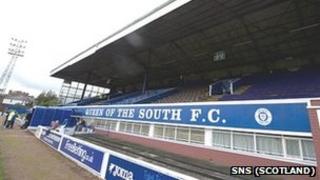 A major revamp of Queen of the South's Palmerston Park ground is under way as the club prepares for life in the second division.
The Dumfries team was relegated last season after 10 years in the the first division.
However, new chairman Billy Hewitson is overseeing a long-term project to develop the facilities at the club.
A new drainage and sprinkler system has been put into the pitch and new ticket offices are being introduced.
Mr Hewitson said: "This is just the start.
"We hope the ground improvements will continue and with that the financial situation will improve and the team will get better."
Among their longer-term goals is a redevelopment of the main stand at Palmerston Park.
Mr Hewitson added that it would take about three to five years to complete all the works they hoped to carry out at the club's ground.