Borders heroin overdose reversal kit level fears raised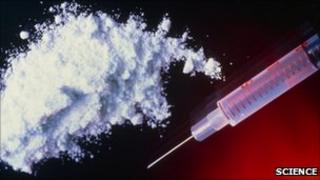 A Borders MSP has claimed heroin users in the region are being given a "get out clause" by overdose reversal kits.
Conservative John Lamont said he believed those taking the drug were not being offered the help they needed.
He has highlighted figures showing NHS Borders gives out the highest number of "take home" naloxone kits per 1,000 problem drug users in Scotland.
NHS Borders said the report showed its commitment to reducing drug-related deaths and supporting recovery.
Naloxone works by temporarily blocking the effect of the opiate drug so it can reverse the effects of an overdose.
That can allow a user the time to contact emergency services and receive treatment.
Figures show that NHS Borders handed out 248 kits per 1,000 problem drug users, in 2011/12.
The next highest level was 161, in the NHS Highland region.
Mr Lamont said concerns had been raised that heroin users would "risk a higher dose" knowing they could "fall back" on naloxone if things went wrong.
"Many people will be shocked at the sheer number of naloxone kits that are being handed out in the Borders," he said.
"To be handing out nearly five times as many kits as the national average is concerning and there is clearly a need for a re-think about how many of these kits we are distributing.
"While naloxone can be a huge help for those who have overdosed, I have long believed that the best approach is abstinence-based."
He said drugs were a blight on communities in the Borders and although there had been recent arrests in the region, more needed to be done to discourage use.
Dr Sheena MacDonald, medical director for NHS Borders, said distribution of the kits was part of its "commitment to support people towards recovery".
'Important intervention'
"These kits are given to people at high risk of overdosing," she said.
"This is a vulnerable group of people and evidence suggests that naloxone will only impact on drug death figures significantly if a 'necessary proportion' of opiate drug users (in the order of 25%) have access to naloxone.
"NHS Borders is achieving this."
She said naloxone was only provided to individuals already using treatment services and meant it was "directly tackling the heart of problem drug use by individuals".
"Naloxone offers the chance to save a life and sends a clear message to individuals that they matter and that they can turn their life around," added Dr MacDonald.
"It is not the solution to drug-related deaths but it is an important intervention within a range of available treatment and support which can help reduce harm, encourage engagement with drug services and support people towards recovery."