Galloway and South Ayrshire biosphere celebrated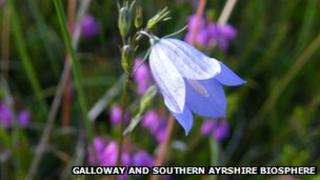 Rural Affairs Secretary Richard Lochhead has visited southern Scotland to celebrate Galloway and South Ayrshire's Unesco biosphere status.
Last month, it joined two other reserves in the UK in receiving the designation which recognises sites with "outstanding natural landscapes".
The biosphere covers parts of the East Ayrshire, South Ayrshire and Dumfries and Galloway Council areas.
Mr Lochhead was at Culzean Castle in Ayrshire to celebrate the award.
He said: "The Unesco biosphere is an internationally recognised brand for outstanding natural environment - and I'd like to congratulate everyone who worked so hard to secure this marvellous achievement.
"Galloway and Southern Ayrshire have special landscapes, wildlife and most importantly communities that care passionately about environment and culture and want to do something to develop the area in a sustainable way.
"The biosphere designation offers a very exciting opportunity to demonstrate how to do things differently and I'm sure it will allow local businesses and communities to thrive whilst protecting and conserving our environment for future generations."
The Unesco World Network of Biosphere Reserves now includes 598 reserves in 117 countries.
They are areas set up to serve as places to test different approaches to integrated management of terrestrial, freshwater, coastal and marine resources and biodiversity.
Unesco describes them as "sites for experimenting with and learning about sustainable development".