Solway illegal cockling claims examined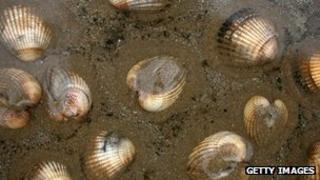 A meeting is to take place in south west Scotland this week to investigate claims illegal cocklers are cleaning out the beds in the Solway.
Fisheries Secretary Richard Lochhead has organised the summit in Dumfries.
Cockle fishing in the Solway Firth has been banned since September last year to protect stocks in the area.
However, Mr Lochhead said he recognised there were "serious concerns" about gangs operating illegally and said he wanted to ensure the ban was enforced.
He has asked Marine Scotland to invite public bodies and local interests to a meeting in Dumfries on Friday, which will seek to ensure greater co-operation in an attempt to resolve the issue.
He said: "While cockle gathering in the area is banned, the potential for such activities to take place at night in highly dangerous conditions means it can be very difficult to catch individuals in the act.
"That's why I have asked Marine Scotland, the local police force, and other public bodies to work together in order to develop additional measures that can support the ban to be implemented.
"This meeting will include discussions on proposals to improve the regulatory framework so that the problem of illegal cockling can be effectively dealt with."
Galloway and West Dumfries MSP Alex Fergusson said enforcing the ban was not the only issue which needed to be discussed.
"While I very much welcome those discussions, I sincerely hope that the meeting will also discuss how to open a legal fishery in the shortest possible timescale," he said.
"Not only would such a fishery be of lasting benefit for the local economy, but it would also do a great deal to keep illegal poachers at bay."
He said that there was a "potential industry" in the area which could be of "great benefit to the local economy".