E. coli cases after Tough Mudder endurance race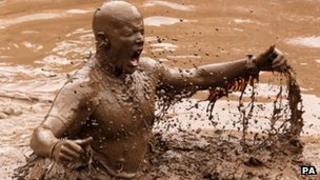 Three cases of the E. coli O157 infection have been found among people who took part in a physical endurance challenge in Dumfriesshire last month.
The trio developed symptoms in the days following the Tough Mudder event, which attracted almost 6,000 competitors to Drumlanrig Castle on 14 and 15 July.
Many of the assault course-style obstacles on the 12-mile run involved immersion in, or contact with, mud.
The E. coli cases were found in adults living in other parts of Scotland.
The Scottish government has now sent alerts to health authorities throughout the UK and to the other countries which had supplied competitors for the race.
Health Protection Scotland (HPS) said that, even more than three weeks after the event, further cases could not be ruled out.
HPS added: "If local authorities are made aware that such events are being planned, they would normally advise the organisers on any potential risks, which might for instance include the risk of mud being contaminated with animal faeces or slurry.
"This underlines the importance of event organisers liaising with local authorities during the planning stage, not least to consider what information participants need in order to enjoy 'extreme' activities as safely as possible."