Solway cockle gangs may face new legal measures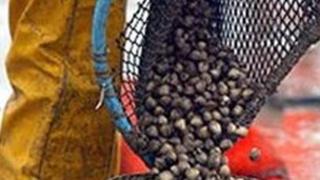 Fisheries Secretary Richard Lochhead has said additional enforcement powers will be considered to tackle illegal cockling on the Solway.
A summit has taken place in Dumfries to consider how the problem should be addressed.
The meeting was called after claims that cockle beds were being cleaned out.
The minister accepted that there were "serious concerns" over the activities of illegal gangs.
Cockle fishing was banned in the Solway Firth in September 2011 to protect stocks.
Mr Lochhead asked Marine Scotland to invite public bodies and representatives of local interests to the meeting.
After the meeting, the minister said: "A number of options are now being considered to ensure that the existing ban can be upheld and local disturbances removed.
"A strategy will be prepared to allow all public bodies with an interest in the issue to work more closely together, including sharing intelligence.
"Proposals are being considered on additional enforcement powers, as well as changes to how existing offences are specified that could make them easier to enforce."