Bathgate man caused Moffat pensioner's A701 crash death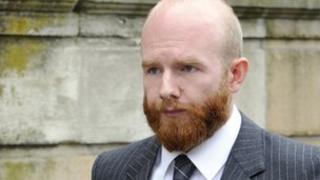 A van driver from Bathgate has been convicted of causing the death of a Moffat pensioner by dangerous driving on the A701 in southern Scotland.
Edward Beckley, 27, of Meikle Inch Lane, was found guilty of the offence in March 2011.
Sarah Stewart, 77, died in the crash and her husband George Stewart suffered hip and spine injuries.
Judge Lord Boyd banned Beckley from driving and deferred sentence for background reports.
The High Court in Glasgow heard how his Volkswagen van was the third of a line of vehicles overtaking a lorry on the undulating country road near St Anne's Bridge.
The others managed to overtake safely but Beckley - whose view was obscured by the van directly in front of him - smashed into an oncoming red Ford Fiesta driven by Mrs Stewart.
She tried frantically to swerve her car into the verge at the side of the road but could do nothing to prevent the impact.
When police arrived on the scene Beckley, who was crying, told them: "I have caused this."
In court he pleaded guilty to a charge of causing death by careless driving, but denied that his driving was dangerous.
After hearing all the evidence, however, the jury took the view his driving was dangerous.
In evidence Beckley told the court that on the day of the crash he had been delivering what he described as "high end" fish to customers in Houston, Renfrewshire, before driving towards Moffat.
He said he was on his way to his parents' home and then on to visit his grandparents.
Under cross-examination by prosecutor Andrew Miller he was asked what was so urgent that he needed to overtake the lorry and he replied: "I didn't need to."
Beckley was interviewed by police at the accident and emergency department in Dumfries and Galloway Royal Infirmary.
He told the police he caught up with an HGV lorry which was travelling at 40mph and there were other vehicles behind the lorry and they all pulled out to overtake it.
Beckley said: "I couldn't see anything coming in the other direction, I checked and there was nothing coming and I pulled out as well.
"As I was passing the wagon the van which was in front of me moved back in front of the wagon.
"There was a car right in front of me coming towards me."
He said he then slammed on his brakes and moved in "as tight as possible" towards the vehicle he was overtaking but could not avoid an impact.
"The the next thing I knew I had to climb out the driver's door window of the van," he added.