Dumfries and Galloway cottage hospital vision criticised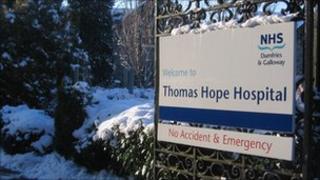 NHS Dumfries and Galloway has been accused of lacking vision on the future of community hospitals in the region.
A report by Helen Tucker of the Community Hospitals Association said there appeared to be a "poverty of aspirations for local services".
A series of public meetings is now planned to discuss the findings.
NHS Dumfries and Galloway chief executive Jeff Ace said it had not been given a copy of the report but said it had no plans to close any hospitals.
Plans to shut five units as part of a health care overhaul were dropped in the face of public outcry last year.
However, pressure group Keep Watch commissioned a study to looking at the role of cottage hospitals at Thornhill and Moffat amid lingering concern for their future.
Alis Ballance, who chairs the group, said a key recommendation from the report was for locals to play a greater role in the development of service plans for their community hospitals.
She said that would offer greater protection for local health services and would also tie in with national policy.
Mr Ace said NHS Dumfries and Galloway was not in a position to comment on a report it had not been given.
He stressed the health authority was firmly committed to working with local communities.
He said that should the NHS board be given a copy of the report, it would welcome the opportunity to consider it in conjunction with appropriate community representatives and members of Keep Watch.