Borders General Hospital elderly care improvements call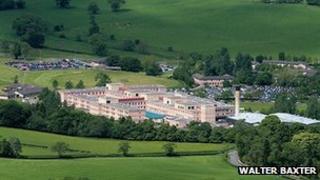 Inspectors have highlighted 13 areas for improvement after carrying out checks on services for older people at Borders General Hospital, near Melrose.
It received a visit from Healthcare Improvement Scotland last month.
Inspectors said the environment in the hospital was "not dementia-friendly" and that the dignity of patients was not always appropriately maintained.
However, they praised the way relatives and carers were encouraged to be involved in patient care.
The older people's psychiatric liaison team was also said to be working well with medical staff and community mental health teams to enhance continuity of care.
Inspectors concluded that improvement was needed in a significant number of areas.
The report said staff sometimes used inappropriate language when speaking about patients.
It also noted that there were occasions when patient care was discussed in ward corridors and some sensitive and personal information was inappropriately displayed.
The report added that there were times when the needs of patients were not put first.
It noted they could be moved a number of times during their stay in the hospital, sometimes late at night, suggesting the needs of the service were being put before the needs of the patient.
Overall, inspectors found four areas of strength and 13 areas for improvement.